Uniform
Our active learning uniform
The days of changing into PE kit for two 40 minute PE lessons each week are over! All children at St Margaret's Lee are active every day. On average, children are physically active for at least 30 minutes a day, not including PE lessons, playtime or extra curricular clubs. To find out how we manage this, click here. For this to happen, we need our children to be dressed for active learning at all times. See the information below for guidance.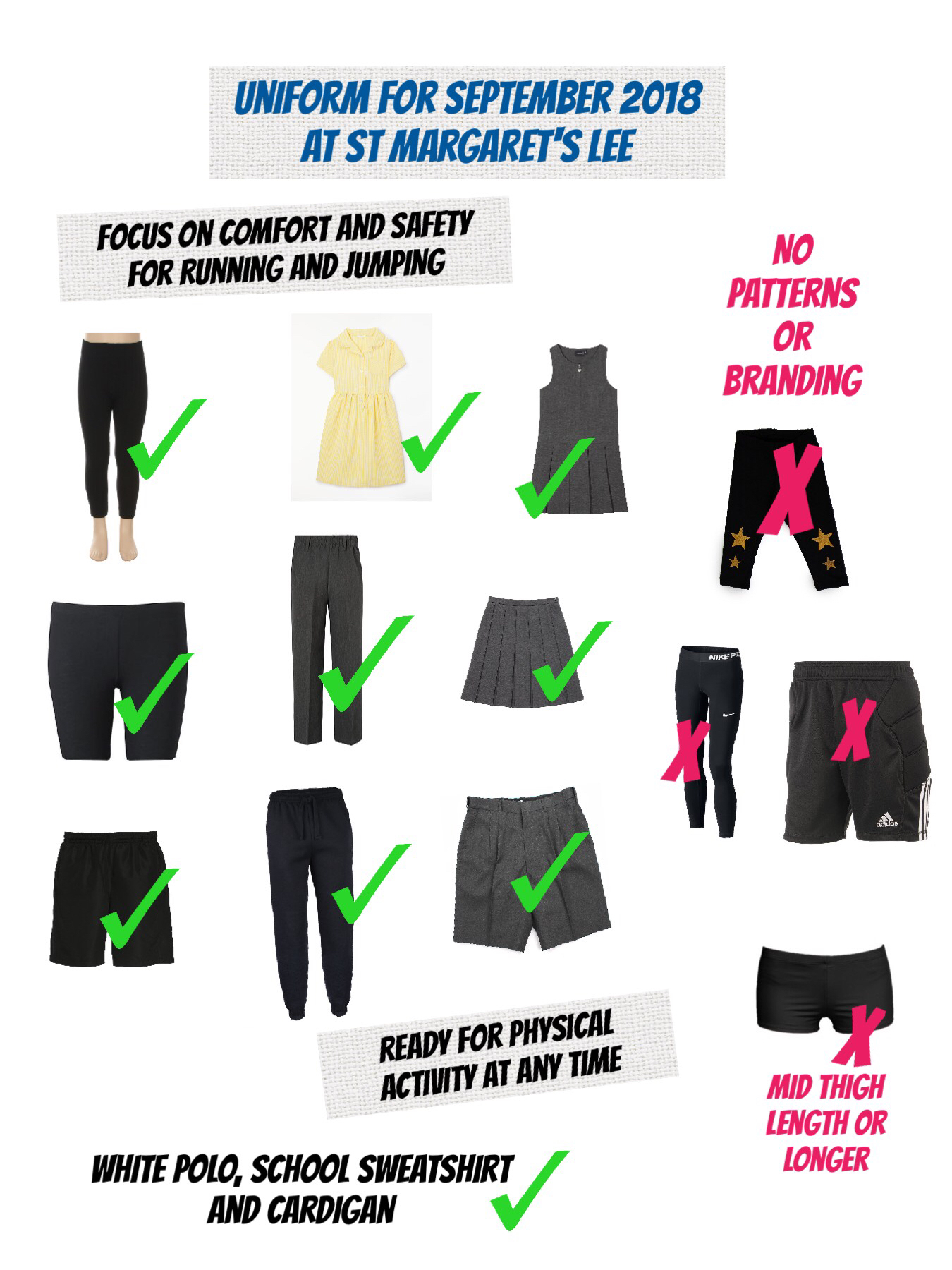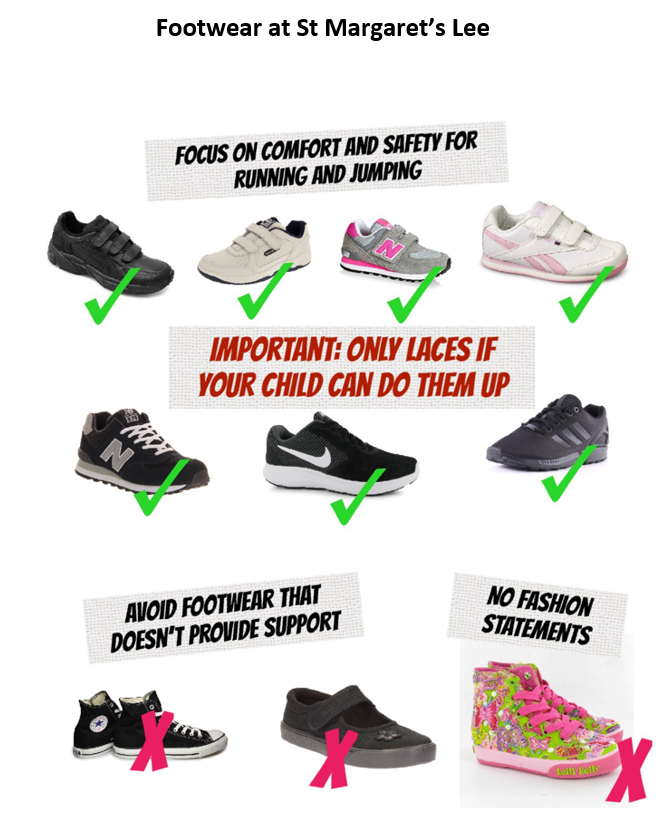 Top half
black or yellow school sweatshirt
black school cardigan
white shirt and school tie or plain white polo shirt
in summer, yellow and white striped or checked school dresses (optional)
Bottom half (any of the choices below)
plain black shorts (no branding) – available from various stores
plain black leggings (no branding) – available from various stores
plain black joggers (no branding) – available from various stores
grey knee length tunic or skirt or grey school trousers or shorts
Socks /tights
plain black, grey or white socks or plain black or grey tights
Footwear
trainers – velcro until independent with laces
Bags
School rucksack (Rec-Y2)*, school rucksack or own suitable bag (Y3-6)
Coats / hats
Jewellery / accessories
watches and small stud earrings are permitted
chains, bracelets, earrings other than studs or other jewellery are not permitted
no accessories
Nail varnish
Hair
long hair tied back
simple / plain hair bands / scrunches / clips – no elaborate bows etc.
*due to the size of the storage trays in R-Y2.
Why do children wear trainers to school?
Health
Advice from podiatrists is that trainers, and in particular running shoes, provide the best support for children's feet. Removal insoles and cushioned soles also contribute to healthy feet.
Comfort
Most trainers provide comfort and are made from breathable material.
Convenience
Having school shoes and trainers and changing from one to the other can be inconvenient and contributes to lost property.
Increased learning time & more active learning
Not having to change footwear means less time wasted and more time being active!
Cost
School shoes cost money and are generally only worn for school. Wearing trainers to school would reduce costs for parents as they wouldn't need to buy school shoes.
Gender equality
Following the research carried out by children in Year 5, the vast majority of children who wear 'trainer-style shoes' are boys (mainly due to the way shoes are marketed), meaning that the vast majority of girls are coming to school wearing shoes that discourage them from playing actively. When they do participate, their footwear puts them at a physical disadvantage.
Uniformity
Wearing trainers will obviously make children look less uniform, but we believe that the image that is conveyed is that we are a school that puts children's well-being high on the agenda.
Winter
When the weather gets colder, we will give parents the option to send their children to school with footwear that keeps their children's feet warm. However, they will be expected to have trainers in school to change into each day.
Lost property
This is reduced as there is less changing of footwear in school.
Journey to and from school
Wearing trainers will improve the walk to and from school.
Won't children get sweaty and smelly if they don't change?
Children do get sweaty and when children approach puberty, they can start to smell when they sweat. When this happens, we encourage children to wash in the morning, wear deodorant and bring a white polo top to change into after sessions that have been particularly sweaty! Although there is no set changing time, children who need to can quickly go to the WC block and change.
What about when the weather is colder / wetter?
If it is raining, parents have the option of dressing their child in wellies, or equivalent, and bringing trainers in a bag.
If it is cold, parents have the option of dressing their child in more insulated footwear and bringing trainers in a bag.
Where do I buy the uniform?
Can I get second hand uniform?
Yes, unclaimed lost property or donated school uniform is stored and is accessed by families when required. This is on a needs basis, but we also host a 'pre-loved boutique' in the school playground every month, where parents and carers can select from a range of pre-worn items. There is no charge and we encourage all families to make use of this offer.
There should be no stigma attached to reusing uniform, but it should instead be viewed as a sustainable approach to providing uniform.