Reading
We want children to enjoy reading and become increasingly confident readers as they go through the school and beyond. Our robust reading curriculum and school procedures ensure this happens.
We want our children to be confident communicators and this tends to go hand in hand with confident readers. Reading, and hearing, an increasing range of vocabulary and language will result in an increasing range of vocabulary and language in writing and speaking.
Many of the books we read in school encourage children to empathise. Quite simply, reading and talking about books develops empathy!
We want all children to be inspired by what they read and we have developed our class libraries and reading curriculum to help children relate to characters or themes in books. This includes books that challenge gender stereotyping, books that have characters that aren't all white, book that celebrate diversity and books that compliment our topics in other curriculum areas.
"There is creative reading as well as creative writing" Ralph Waldo Emerson
Reading for pleasure
At St Margaret's, we want children to develop a real love of reading and become lifelong readers. Teachers across the school regularly read to children from class books – allowing them to enjoy the magical power of a great story. In addition, there are regular slots built into the school week when children can lose themselves in a book and make recommendations to classmates. Each class also has designated time in the school library, where staff are on hand to help pupils choose their next title or suggest a new author. We have invested in a wide range of quality fiction, poetry and information texts as well as subscribing to top children's magazines, such as National Geographic Kids and The Week Junior. Every March, we celebrate World Book Day in style, and we also invite authors into school to inspire the next generation of writers – children's poet James Carter even opened our revamped school library!
What is Read Write Inc? (phonics reading and writing scheme)
We are using a phonics scheme called Read Write Inc. All teaching staff across the school have received training on how to use the scheme and we are fully resourced with new books and resources.
What is Read Write Inc. Phonics?
How do I say the sounds?
Where else can I find information?
Watch video tutorials on https://www.ruthmiskin.com/en/find-out-more/parents/ to help you to understand more about Read Write Inc. Phonics and how to help your child read and write at home.
'Special Friends'
Special friends are a combination of two or three letters representing one sound, e.g. ck, ay, igh, oa.
Fred Talk
Fred the Frog helps children read and spell. He can say the sounds in words, but he can't say the whole word, so children have to help him.
To help children read, Fred (the teacher) says the sounds and then children say the word.
For example, Fred says c-a-t, children say cat, Fred says l-igh-t, children say light.
Teachers are encouraged to use Fred Talk through the day, so children learn to blend sounds.
For example:
Play Simon Says: Put your hands on your h-ea-d/ f-oo-t/ kn-ee.
Put on your c-oa-t/ h-a-t/ s-c-ar-f.
Set the table with a b-ow-l/ f-or-k/ s-p-oo-n.
'Fred in your head'
Once children can sound out a word, we teach them to say the sounds silently in their heads.
We show them how to do this by:
1. whispering the sounds and then saying the whole word;
2. mouthing the sounds silently and then saying the whole word;
3. saying the whole word straight away.
Perfect pencil grip
Children sit at a table to write.
They hold up a pencil in a tripod pencil grip with the non-writing hand flat holding their paper.
How can I support my child's reading and writing?
Here are the top five things you can do.
Ask your child to read the Speed Sound cards speedily
Use Fred Talk to help your child read and spell words
Listen to your child read their Read Write Inc. Storybook every day
Practise reading Green and Red Words in the Storybook speedily
Read stories to your child every day.
What will my child bring home to read?
'Last and past' Storybooks: contain sounds and words the children know. This is the Storybook they have just read at school and maybe some they have read before, for extra practice. Please don't worry that books are too easy. Children enjoy re-reading stories they know well. Their speed and understanding improves on every read.
Book Bag Books: matched to the Storybooks children read in school and used for extra practice. They include many of the same reading activities that we use in class and include parent guidance.
More Storybooks and Non-fiction books: matched to the sounds and words your child knows well.
Picture books to share with you: read these stories to children or encourage them to retell the story by looking at the pictures. They are not expected to read the story themselves.
Speed Sounds cards: for children to practise reading speedily. If needed, show your child the picture side of the card to help them remember the sound.
How can I support my child to learn Set 1 sounds and to blend?
Use pure sounds, not letter names. Watch the 'how to say the sounds' parent film above
Watch the 'Reading the stretchy sounds with your child', 'Reading the bouncy sounds with your child' and 'Reading the digraphs with your child' parent films on https://www.ruthmiskin.com/en/find-out-more/parents/ to see how to teach Set 1 sounds
Practise reading known Set 1 Speed Sounds cards speedily. If needed, show your child the picture side of the card to help them remember the sound.
We teach children to read and spell using Fred. He is a toy frog who can say the sounds in words, but not the whole word. Children have to help him.
To help children learn to blend, we say the sounds as Fred and then children repeat the sounds and say the whole word.
Here are two ways you can use Fred Talk at home:
Play Fred Games together – see Fred Games document on https://www.ruthmiskin.com/en/find-out-more/parents/
Speak like Fred throughout the day e.g. time for l-u-n-ch! Let's p-l-ay!
How can I support my child to learn Set 2 or 3 sounds?
How do I listen to my child read?
Your child has a Storybook matched to the sounds and words they know – a decodable book – so they should be able to read all the words.
Please avoid saying, "This book is too easy for you!" but instead say "I love how well you can read this book!"
'Special Friends', 'Fred Talk', read the word
Remind your child to read words using 'Special Friends, Fred Talk, read the word' (see glossary).
For example 'ship': spot the 'sh', then Fred Talk and blend to read the word e.g. sh, sh-i-p, ship.
Red Words
Red Words are also known as common exception or tricky words. They occur in stories regularly (said, what, where) but have unusual letter combinations ('ai' in the word 'said' makes the sound 'e').
Remind your child not to use Fred Talk to read Red Words but instead to 'stop and think'.
Tell them the word if you need to.
Read the same book again and again
Children love reading the same book again and again. Their reading becomes speedier and they understand what they are reading.
Encourage your child to read words using 'Fred in your head' (see glossary)
Show your child how to read the story in a storyteller voice
Share your enjoyment of the story when they read it again and again.
What do I do with the picture books?
One of the most important things you can do as a parent at home is read to your child.
Loving stories is important because children who love stories want to read stories for themselves. Children who read a lot become better readers.
Here are some top tips for story time:
Make it a treat – introduce each new book with excitement
Make it a special quiet time – cuddle up!
Show curiosity in what you're going to read
Read the story once without stopping so they can enjoy the whole story. If you think your child might not understand something say something like 'Oh I think what's happening here is that…"
Chat about the story e.g. I wonder why he did that? Oh no, I hope she's not going to…
Avoid asking questions to check what they remember
Link to other stories and experiences you have shared e.g. this reminds me of…
Read favourite stories over and over again – encourage your child to join with the bits they know. Avoid saying 'not that story again!'
Use different voices – be enthusiastic!
Love the book – read with enjoyment
How can I help my child to practise their handwriting?
Remind your child:
Challenge your child to see how many sounds they can write in a minute.
Say the sound and children write e.g. 'write m', 'write s', 'write w'.
How can I help my child to spell words?
Encourage your child to use Fred Fingers to spell words
Ask your child to say the sounds in the word as they press the sounds onto their fingers
Ask your child to then write the letters – if they get stuck, say the sounds again
Praise your child for spelling using the sounds they know, even if their handwriting is not perfect.
How else can I develop my child's language?
Children will have a large vocabulary if they are part of a 'talk-a-lot' family:
Use every opportunity to talk with your child throughout the day – meal times, playing together, bath time
Use new and ambitious vocabulary e.g. miserable instead of sad, stroll instead of walk
Speak to your child in complete sentences
Make up stories together - there's no need to write it down.
What resources can I buy to support my child's reading and writing at home?
You can purchase the below from Amazon to support your child with blending at home:
My Reading and Writing Kit age 3-5 – Set 1 Speed Sounds and blending
My Reading and Writing Kit ages 5-7 – Red Ditty books
My Reading and Writing Kit ages 5-7- Set 2 Speed Sounds, Green and Purple Storybooks
Reading comprehension
Being able to decode and pronounce the words on the page is only a small part of the reading journey – children then need to be able to understand and explain what they have read.
In KS1, children work on developing the following five skills: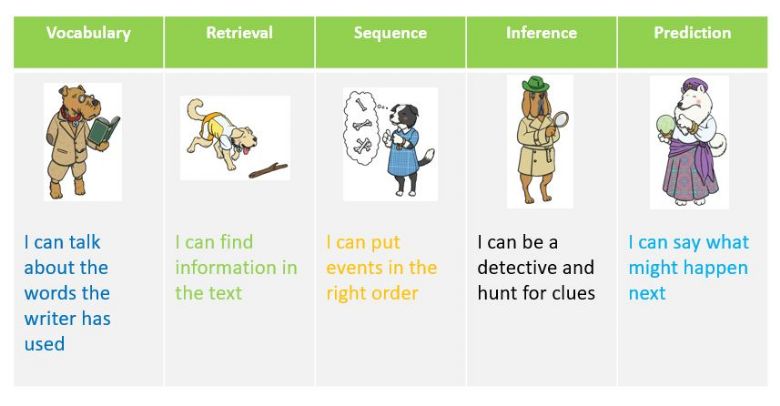 In Year 1, this is usually done verbally, with teachers asking children appropriate questions during one-to-one reading sessions. In the course of Year 2, a discrete reading comprehension lesson is gradually introduced, where the children are explicitly taught the five skills and get the opportunity to practise them independently.
In KS2, there are eight key skills that need to be mastered: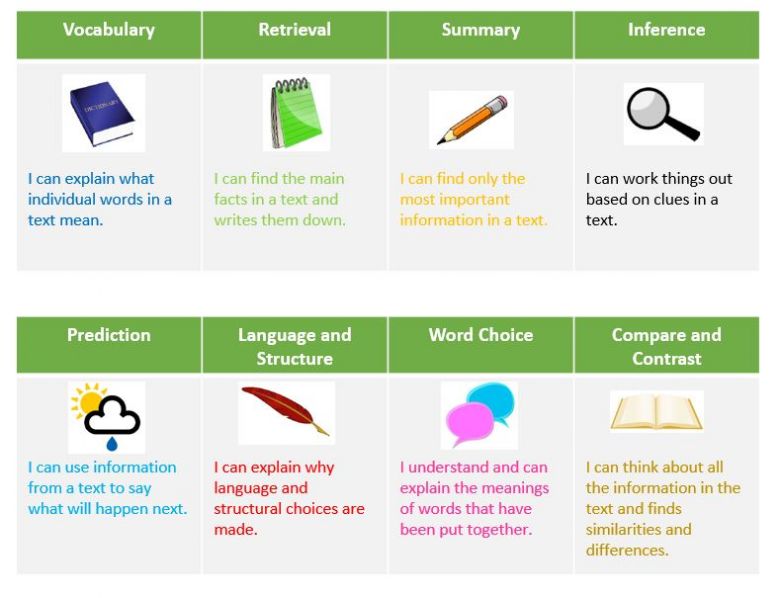 These are explicitly taught in discrete whole-class comprehension lessons; this learning is then consolidated during whole class reading sessions, where children explore vocabulary, read and discuss a wide range of texts and answer questions.
Our top tips on raising readers
Whether your child has just started at St Margaret's or is preparing for secondary school, a lifelong love of reading is the best gift we can give them. Here are our 10 top tips to support children on their reading journey, whatever their age.
1. Make reading routine
Little and often is the key. Help your child choose a regular time when they can read and a comfortable spot where they won't be distracted.
2. Read to your child – at any age
Once children can read independently, it can be tempting to just let them get on with it but research shows that being read aloud to has benefits way beyond the early years.
For new readers, a strict diet of phonics books will quickly turn unappetising so spark their imagination and introduce them to dazzling new worlds by reading them a range of illustrated books and beginners' chapter books.
Developing readers are often keen to read more sophisticated books but may struggle to do so independently. But they will love mum or dad reading modern page-turners such as 'How to Train Your Dragon' or classics like 'Charlie and the Chocolate Factory' – and it's a great way of broadening their vocabulary and stoking a love of reading.
Reading alongside independent readers can be a great bonding experience. You can share the new worlds they're discovering and by talking about what they're reading, you are giving your children practise at predicting, summarising and a whole host of other skills.
3. Remember variety is the spice of life
'Books' comes in all shapes and sizes – graphic novels, magazines, comics, leaflets, recipes, poems, joke books, adverts, encyclopaedias all make great reading material. Feel free to make recommendations but respect your child's preferences.
4. Visit your library
A great – and free – way to encourage your child to take ownership over what they read and give them the opportunity to explore new authors or genres. Manor House Library is a great local resource, which runs storytelling workshops and organises reading challenges to inspire young readers.
5. Use technology wisely.
Screen time can be a problem for families. However, technology can help your child's reading development at any stage of their reading journey.
For new readers, programmes like CBeebies' Alphablocks can help with phonics There are also a range of reading apps, including PocketPhonics and Pirate Phonics, that children enjoy. Apps are constantly evolving and being developed; use the customer ratings as a guide and always opt for the free or 'lite' version before buying.
E-books and animated stories can be a great way for developing readers to explore new genres and learn new words. Some even come with a quick quiz at the end to see what they have understood.
Audio books can allow independent readers to broaden their vocabulary and challenge them to summarise what they have heard.
6. Praise, praise and praise again.
Children thrive on encouragement – praise their efforts rather than their achievements.
7. Ask questions
Engaging with what your child is reading makes them feel valued. Ask questions about what they have read, what they think might happen next, which characters they like most, how the book could have ended differently.
8. Embrace unfamiliar words
In every book, there are bound to be some words a child doesn't know. Be patient – give them time to work out the pronunciation of the word; if they remain stuck, encourage them to say the individual sounds and blend them together. If they don't know the meaning of a word, first encourage them to use the information around the word to try to figure it out. Talk about words – their meanings, words that mean the same, words that mean the opposite.
9. Set reading goals
The home/school reading journals are an easy way to help your child set reading goals – with certificates for every 25 nights of reading. Pupils are celebrated in school assemblies when they clock up 100 nights and at the end of the year we have a non-uniform day for all pupils who have reached 200 nights. We suggest rewarding reading with a trip to the bookshop.
10. Be seen reading
Seeing a parent, carer or teacher enjoying a book can be a powerful motivator. If you want your child to be excited about reading, you need to be too.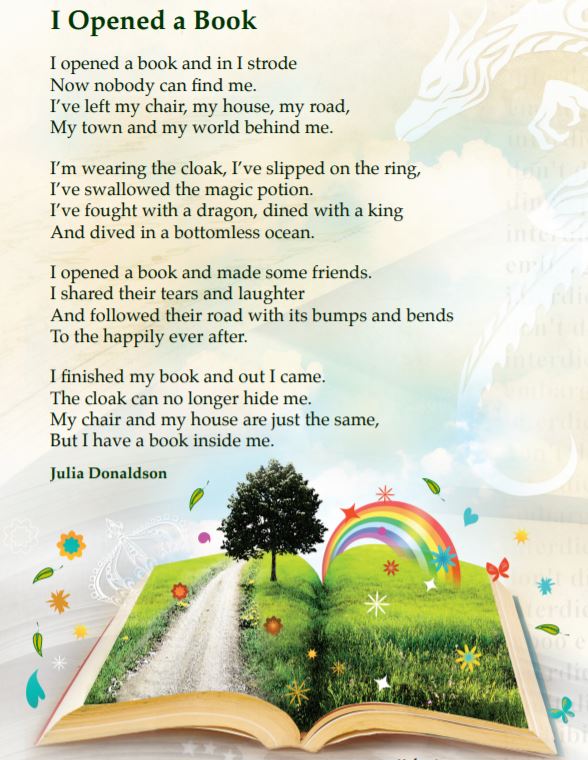 Reading