Music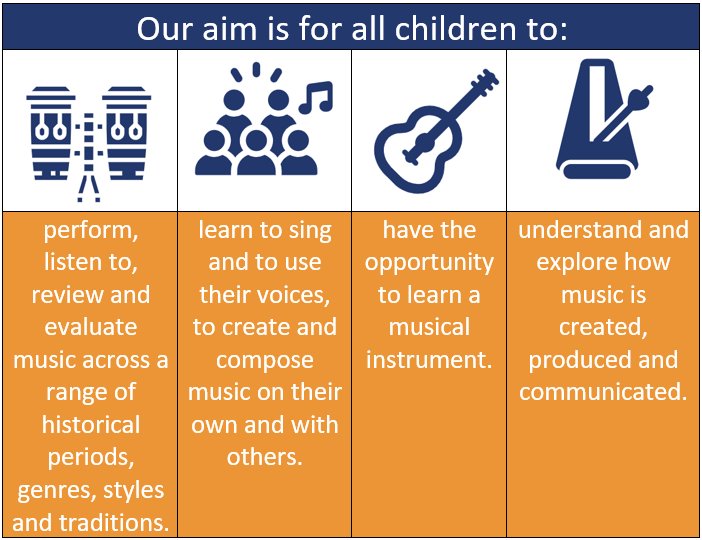 The Music section is currently being updated to reflect latest teaching and learning. Due for completion in Nov 2022.
We aim to make music enjoyable and accessible to all children, and so our team includes a music specialist teacher, Mr Brown. He teaches music across the school using the Charanga Music Curriculum as the basis for learning, as well as co-ordinating our rich range of curricular and extra-curricular music activities. We are very proud of the musical achievements of our children.
All classes have a weekly music lesson with a specialist music teacher.
In Year 3 all children learn to play the recorder.
In Year 4 all children learn to play the ukelele and steel drums.
In Year 6 all children compose using music technology.
The school has an inspiring team of visiting instrumental teachers for children who choose to learn an instrument. Currently, the school offers lessons in guitar, piano, violin, flute & clarinet and drums.
Children from across the school have the opportunity to join a rock band.
We have a well-resourced music department and provide lots of opportunities for our musicians to perform. In school we produce shows like Charlie & the Chocolate Factory and The Lion King, plus we have Christmas celebrations, regular music assemblies and a new series of informal concerts.
Music is a great way of sharing kindness and many of the songs that we sing as a school celebrate friendship and characteristics of healthy relationships. Providing opportunities for children to evaluate the compositions and performances of their peers also helps to develop empathy.
The children perform at venues such as the Blackheath Concert Halls, the Broadway Theatre at Catford and the O2 Arena, and get the chance to work with professional musicians from outside organisations, such as the London Community Gospel Choir, the Cavatina Chamber Music Trust and Young Voices.
Children have many opportunities in every year to create their own compositions, whether it's creating a class song, writing a score for ukulele or writing a soundtrack on Garageband.
Below is an overview of what is taught and when ...
Pre-school
When children enter the school in the Pre-school their music lessons aim to nurture a love of music and sow seeds for their future development. Using weekly interactive sessions which include action songs, singing nursery rhymes, playing percussion instruments, musical games and movement they are consistently exposed to all the musical elements as they fully participate in the music making. Throughout the year they also meet and explore many instruments including trumpet, cello, saxophone, recorder, piano, violin and guitar as they experience them playing live.
Reception
The work done in Pre-school is developed in Reception by including a more thoughtful look at how musical elements work. This material is mostly presented through contrasts such as 'fast, slow', 'loud, quiet' and long, short' with pairs of pictures and musical examples being used to help these young children become aware of the basic concepts. There is still much singing, movement and hands on experience of playing classroom instruments plus an introduction to simple composition. The repertoire is a mix of traditional and contemporary. We also start performing to a wider audience with songs in the infants' Christmas musical and Music Assemblies.
Year 1
Our Year 1 children are taught to be more aware of sounds around them. We look at the steady pulse they can produce and how that can help us to play together and to measure the duration of notes. We use songs and games to help us notice sounds of high / low pitch and loud / soft dynamics. As we use classroom percussion instruments we learn their proper names (eg 'maraca' not 'shaker') and we sometimes use symbols (graphic notation) to notate what we are playing. We perform in school events such as the infants' Christmas musical, International Day and Busking Cancer.
Year 2
In Year 2 the children develop the previous year's work with songs and games that provide a more challenging use of the musical elements. For example they use graphic notation to notate simple sound patterns which tell a familiar nursery rhyme. They also begin to make use of tuned percussion instruments (eg xylophones, glockenspiels) to accompany songs. They are expected to use their voices and instruments in a more expressive way as a result of the work covered on dynamics and timbre. We perform often in school events such as the infants' Christmas musical, International Day and Busking Cancer.
Year 3
Throughout Year 3 the children learn the recorder with a dedicated lesson each week in half-class sized groups. This is in addition to their weekly music lesson. Through the recorder they use traditional notation for the first time. Children who are also learning other instruments are encouraged to bring them into the lessons and make a class band. We shape our own arrangements developing our vocabulary appropriately as we do so. The class make vocal and instrumental music with ever increasing musical challenges as they incorporate their growing knowledge. They also take part in a topic about Programme Music which stretches their listening and compositional skills. Throughout Year 3 we give many performances of our music at events such as Lewisham's SongFest, Recorder Assembly, the Christmas Concert and Busking Cancer. With Years 4, 5 and 6 we listen to a concert in the summer provided by the Cavatina Chamber Music Trust. The performance will be given by a professional chamber music ensemble giving a one hour top quality recital, especially prepared for this age group.
Year 4
Our Year 4 children learn the ukulele with a dedicated lesson each week in half-class sized groups with a specialist ukulele teacher. They learn the appropriate notation of chord symbols and chord diagrams as a well as singing and playing simultaneously. They perform in the Ukulele Assembly, Christmas Concert and International Day. Additionally Year 4 have a music lesson each week where other musical skills are enriched including a composition project describing a journey around the world. The use of recorders and other instruments is encouraged wherever possible. Singing continues to be developed in whole school sessions and in class. Our repertoire aims to spans as many genres as possible.
Year 5
Year 5 music will include composing descriptive pieces using different tempi, including getting faster and getting slower; using songs, instrumental pieces and particularly rounds to see how parts fit together rhythmically; using songs and instruments to explore some intervals and using them as a basis for compositions; listening to dynamically contrasting music and using it as a stimulus for composing; exploring a wider variety of sounds including electronically processed sounds and everyday objects for use in soundscape compositions.
Year 6
In Year 6 the children will explore Music Technology. Using iPads and the app 'GarageBand' the children will learn to compose, arrange and evaluate their own scores. There will also be an opportunity to play their own instruments in compositions. In class they will use music that enhances short stories to highlight structure and then compose music to our own stories with notation. Our Year 6 class also present a musical at the end of the summer term. Two performances, one to parents and another to the school provides a wonderful showcase for soloists and groups to perform songs in the context of a musical.

Music