Mathematics
Problem solving & reasoning
We put a strong emphasis on problem solving and reasoning from pre-school through to year 6. We use a range of manipulatives (actual objects that children can see, move, reorder etc.) all the way through the school. We use a maths scheme across KS1 and KS2 called PowerMaths. This provides children with opportunities to collaborate, reason, explore and also provides a clear structure for children, teachers and families.
Throughout the year, we also build in opportunities for mathematical investigation, active maths and applying maths across the curriculum.
Click on the blog link below to see our maths curriculum in action!
Arithmetic
We have created video guides for all calculations that are taught at St Margaret's Lee! IF you are helping at home, please click on the relevant button below and this will take you to the video guide you require. If you like to have a words and picture guide, click on the calculation policy button.
Addition and Subtraction tests
Guidance on timed addition facts tests
Each week, children take part in a timed test of their addition facts. The children work at a level appropriate for them, and each level builds on the one before. As a guide, children will progress to the next level when their test answers are consistently error free and completed within 2 minutes.
Our top 5 tips for helping at home
Practise the addition test booklets and/or the multiplication test booklets that your child is on.
Go over the ones your child gets stuck on and practise these even more!
Be patient, positive and reward progress. Virtually all our children get to mahogany, just at different rates.
Use apps. We strongly recommend Squeebles Times Tables, Squeebles Flip Multiplication (developed alongside the school and based on our St Margaret's tests) and Squeebles Maths Race
Use songs - there are a growing and ever-updating number available online - please take care when searching and don't allow your child to search without supervision. Our favourite is still 'Three is the magic number' by Schoolhouse Rock (see below!) Please note that these take you to Youtube and ads may pop up. Please supervise your child when using.
My child is confident and able. How can I challenge them at home?
If your child is whizzing through the times table tests and addition tests, and can do calculations quickly without pen and paper, s/he is demonstrating good mathematical fluency. Doing more and more of the same (with bigger numbers) will improve this fluency but will not give a deeper understanding and mastery of maths.
In the same way, a child with good handwriting will develop his fluency if practises handwriting. It will not make him a better writer of fiction, poetry or reports.
Our advice is to find games, puzzles and activities that deepen mathematical understanding and challenge your child to use trial and improvement, work systematically, pattern spot, visualise and apply logical reasoning.
Nrich is a a great free and regularly updated resource that is based on sound research and developed by the University of Cambridge. We recommend you have a look at this site as a good starting point for challenging your child at home.
Click here to explore the nrich website.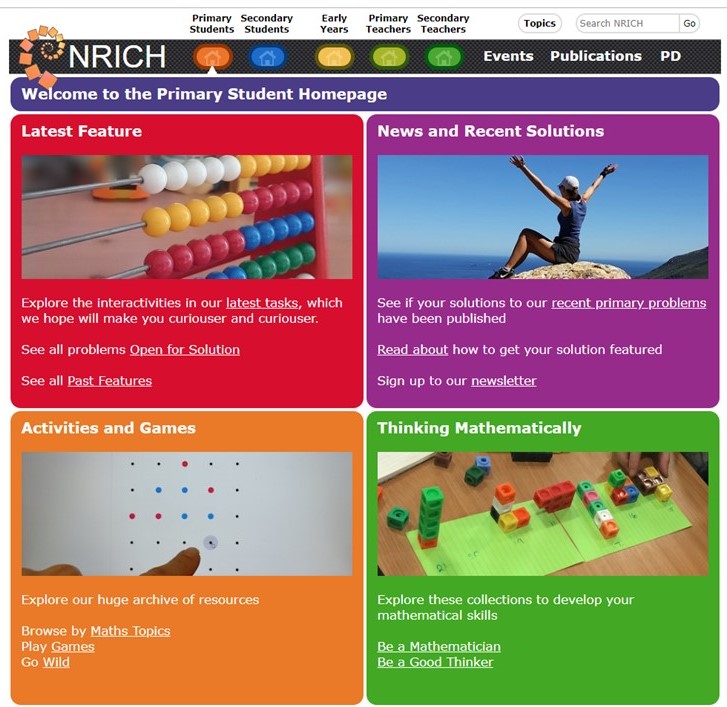 Mathematics